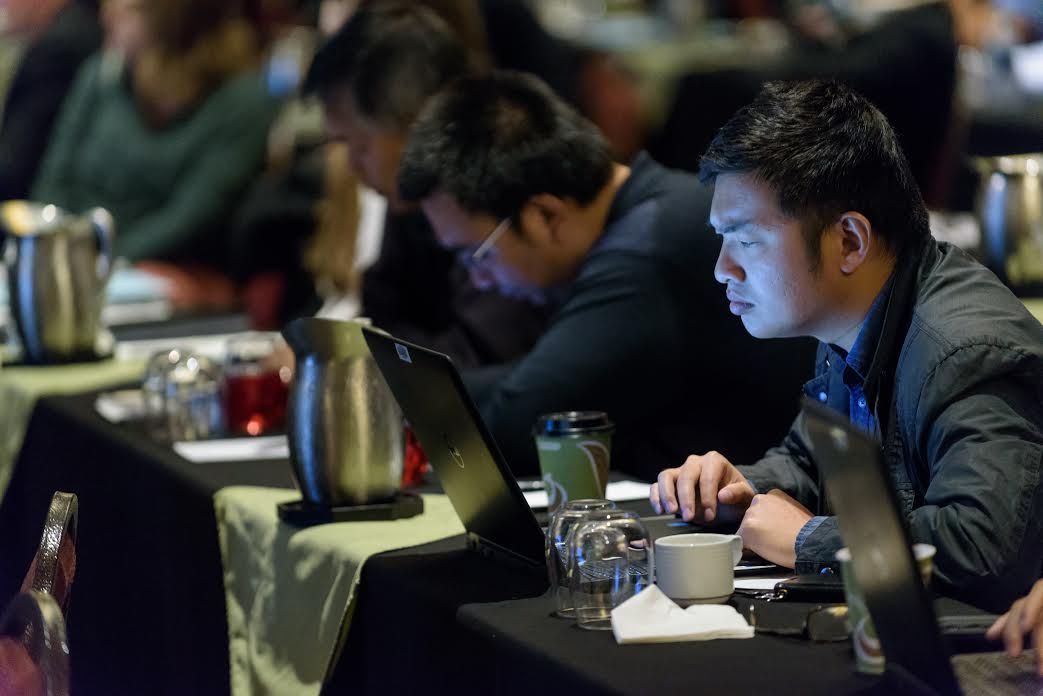 The 4th annual meeting of the Arkansas Bioinformatics Consortium (AR-BIC) was successfully held March 23-24 in Little Rock, Arkansas. Attended by over 200 participants, AR-BIC 2018 was made possible through the generous support from a conference grant awarded by the U.S. Food and Drug Administration (FDA) National Center for Toxicological Research (NCTR), sponsorships by the major Arkansas research universities in this field – University of Arkansas for Medical Sciences (UAMS), University of Arkansas (UA), University of Arkansas at Little Rock (UA-Little Rock), University of Arkansas at Pine Bluff (UAPB), and Arkansas State University (A-State) – along with the Arkansas Biosciences Institute (ABI) and TriNetX. The Arkansas Research Alliance (ARA) acted as the lead organizer in addition to providing core sponsorship resources. This year's overarching theme was "Data Analytics for Genomics and Beyond."
AR-BIC was founded to foster a collaborative, Arkansas-based community in bioinformatics research and education among federal and academic institutions. Over the past few years, AR-BIC has gained tremendous momentum and popularity among the Arkansas scientific research community, which is evident by the increased number of participants each year.
The AR-BIC annual meeting has become the largest Arkansas bioinformatics gathering, which not only provides an opportunity for networking, collaborating and sharing ideas, but also a platform to highlight the excellent research conducted statewide. This year's meeting was especially extraordinary as it announced the formation of the AR-BIC Governing Board and was heralded by a video greeting from Arkansas Governor Asa Hutchinson, who highlighted the contribution and impact AR-BIC has made on the improvement of the state's economy and research environment.
The two-day event opened with a pre-conference workshop by TriNetX, which, in addition to being a network of academic medical centers and pharma companies who collaborate on clinical trials, provide a technology application to access clinical trial cohort data. Plenary talks centered on generalized data analytics of genomics data, textual data, business data, and chemical data by eleven internationally renowned scientists located in Arkansas, and by two visiting scientists from Argonne National Lab, Illinois, and East China Normal University, Shanghai, China.
Arkansas-based plenary speakers were graciously provided by NCTR, UA-Little Rock, UA, and UAMS. AR-BIC also hosted two speakers from the corporate sector – J.B. Hunt (logistics technology) and MISO (energy grid management). Each speaker shared data-analytics trends in their areas of expertise, along with strategies and methodologies they employ using a different range of data – from genomics and textual to chemical and business. Striking similarities were discovered in the underlying data analytics methodologies across all types of sectors, a promising segue for future collaboration among data scientists from state universities and business.
In addition, more than 30 posters were presented, predominantly by students from the partner universities, providing them an important training opportunity, and sparking continued conversations throughout the consortium. AR-BIC members hailed from all corners of the state, arriving from NCTR, UA-Little Rock, UAMS, A-State, UA, UAPB, and USDA. The full conference program can be accessed at http://www.aralliance.org/ar-bic.
With this success, we are now planning AR-BIC 2019, to be hosted February 25-26, 2019, at UAMS.