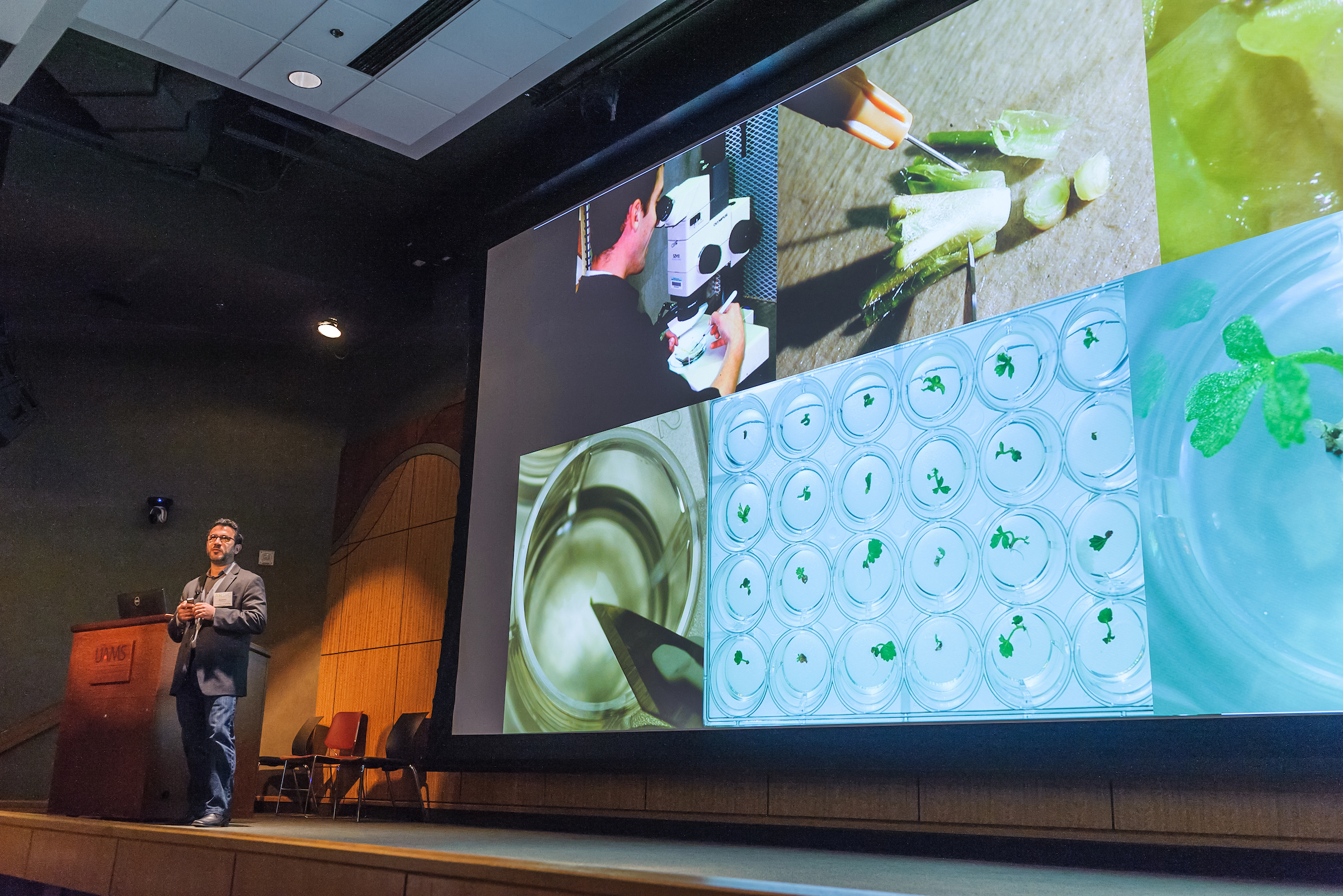 The fifth annual meeting of the Arkansas Bioinformatics Consortium (AR-BIC) convened on February 25-26, bringing together the state's bioinformatics community under the theme Bioinformatics in Food and Agriculture. Not only were Arkansas' research campuses well represented, dignitaries from the Food and Drug Administration, the University of Florida, Johns Hopkins, the Dale Bumpers National Rice Research Center and more were on hand to lecture and collaborate.
"It's our largest attendance to date," announced ARA President & CEO Jerry Adams during his opening remarks. "We have an exceptional agenda, and it's comprehensive and very full."
Indeed it was. Hosted at the University of Arkansas for Medical Sciences (UAMS), AR-BIC featured about 20 lecturers, a poster contest with cash prizes, and three pre-session workshops. The  workshops – a first for the event – were led by Drs. Samantha Robinson and Giovanni Petris of the University of Arkansas, and Jason Williams of Cold Spring Harbor Laboratory.
"About fifty people attended each workshop," said Mr. Adams. "I think this underscores how important it is to have an educational component to the Consortium."
The annual event, which is growing in popularity every year, is chaired by Dr. Weida Tong, Director of the Division of Bioinformatics and Biostatistics at the National Center for Toxicological Research (NCTR) and organized in part by the Arkansas Research Alliance. AR-BIC is an Arkansas-centric bioinformatics community aimed at developing, leveraging, and enhancing state-wide scientific collaboration, thus forming a stable environment available to support the Arkansas-wide research, education, training, and entrepreneurial/industrial activities in life sciences-related computing.
Poster Contest Winners
Research poster presentations have long been an AR-BIC staple. But this year, the Consortium offered cash prizes to those judged to be the very best. Dr. Shraddha Thakkarr, who helped judge the event, noted the importance of poster presentations among the research community.
"Of course, you can post the content of the posters online," she said, "but the poster presentations are where you can really share your work one-on-one and personally foster collaborations."
This year, seven prizes were awarded, though both Dr. Tong and Dr. Thakkar praised the overall quality of the work.
Student
First Place: Ujwani Nukala (AR-BIC 25), UAMS
Second Place (tied): Xiangwen Liu (AR-BIC 34), NCTR
Second Place (tied): Xiaofan Wang, (AR-BIC 32) University of Arkansas
Third Place: Nirman Nepal (AR-BIC 34), Arkansas State University
Post Doc
First Place (tied): Anuj Kumar (AR-BIC 37), University of Arkansas
First Place (tied): Kapil Khadka (AR-BIC 19), NCTR
Undergraduate 
First Place: Kate Sanders (AR-BIC 29), Hendrix College